Susan Cunningham Receives Crop Insurance Outstanding Service Award
NATIONAL CROP INSURANCE SERVICES
8900 Indian Creek Parkway, Suite 600
Overland Park, Kansas 66210
FOR IMMEDIATE RELEASE
February 14, 2018
For more information, contact Laurie Langstraat – 913.685.2767
Susan Cunningham Receives Crop Insurance Outstanding Service Award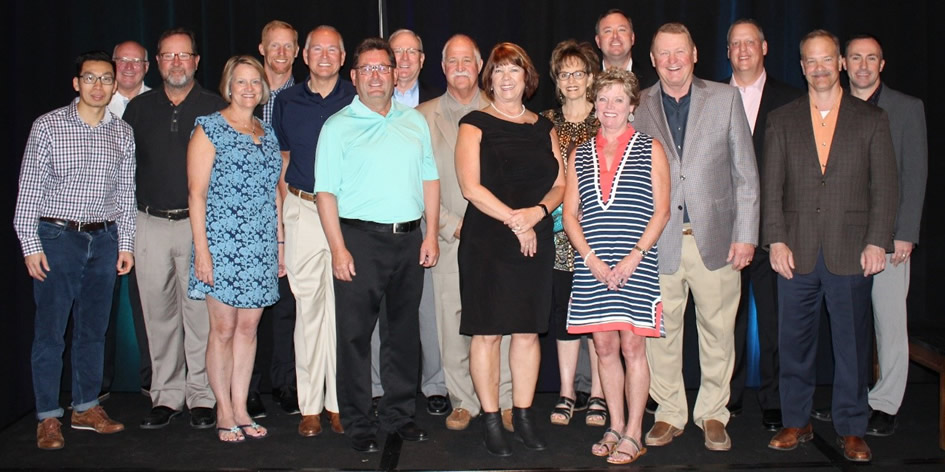 Photo from Left to Right: Vince Le, Dave Schuler, Jim Christianson, Kim Christianson, Mike Davenport, Mark Classen, Rob Goeres, Mike Coleman, Bill Cunningham, Susan Cunningham, Erin Heilig, Gary Heilig, Diane Harms, Steve Harms, Scott Arnold, Stephen Frerichs, Hunter Hall
(SCOTTSDALE, ARIZ.) – Susan Cunningham was the recipient of the 2018 Crop Insurance Industry Outstanding Service Award in recognition for outstanding service and outreach to small, limited resource, and socially disadvantaged farmers. The award was presented during the 2018 Crop Insurance Industry Annual Convention.
Susan Cunningham has spent decades building a very successful crop insurance business in Montana. The keys to her success have been providing excellent service to Montana's producers through extensive research, education, newsletters, and traveling to meet growers at their farms. Susan attends many AIP-sponsored update meetings where she studies the policy updates and changes, and will not leave until she has all her questions answered. She is an industry leader when it comes to understanding all facets of the various MPCI, Crop-Hail and Fire & Allied Lines products, and is a supporter of the new Whole-Farm Revenue Protection policy. Susan was one of the first agents to write Adjusted Gross Revenue-Lite for beginning organic farmers in Montana.
Susan's clientele outreach is quite diversified and includes many women, Native Americans, and Hutterite Colonies across Montana in approximately 25 counties. She served as "Montana Grain Growers Association Board of Director-At-Large for Crop Insurance" from 1997-2015. She frequently participated in listening sessions and provided the monthly crop insurance update article in the MGGA magazine. Her goal is service to the American farmer – to help keep them farming!
Susan grew up in Sunburst, MT, which is a small town and farming community close to the Canadian border. After graduating from high school, she attended Montana State University where she received a Business degree. She moved to Billings, MT, in 1980 and began working for the Federal Crop Insurance Corporation (FCIC) as a part-time county office clerk. Through the progression of government changes, she continued with FCIC in various positions that included field representative, loss adjuster, trainer, and reviewer. This extensive work experience provided her with a well-rounded experience and deep knowledge of the crop insurance program. In 1988, Susan left FCIC to go into the private industry, delivering MPCI as a company service center helping agents service their clients. In 1990, she started her own crop insurance agency in Billings. The family agency now includes her son, Chase, and husband, Bill. They also service multiple sub-agencies with informational meetings, newsletters, and one-on-one client meetings.
Susan has an excellent reputation with growers and is held in the highest regard among the members of the crop insurance industry.
Posted Date:
Thursday, February 15, 2018