Cold Case Solved: Chubb Returns Norman Rockwell's Lazybones to Family
It was an art heist unsolved since June 30, 1976. Burglars broke into the Grant family home in Cherry Hill, N.J., and snatched several valuables, none perhaps more stunning than a classic 1919 Norman Rockwell painting. Over 40 years later, the FBI has solved the cold case and recovered the artwork. And Chubb made sure the painting returned to the family.
The oil on canvas is known by various titles, including Taking a Break, Lazybones, and Boy Asleep with Hoe, and starred on the cover of the Sept. 6, 1919 Saturday Evening Post. At the time of theft, the painting became a star for the wrong reasons. The local police department investigated, and press around the world covered the disappearance. Despite their efforts, the painting vanished. It became one of the greatest mysteries of the art world.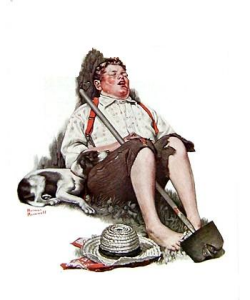 Chubb insured the Grant family and paid out on the claim of $15,000, after which we acquired the painting's title.
Fast-forward to 2017. The FBI solved the cold case and recovered the painting. According to the Norman Rockwell Museum, the piece has gone up in value by about 6,000 percent. And Chubb has delivered the painting to the Grant family. The family returned its original claims payment, and Chubb is donating that sum to the Stockbridge, MA-based museum. It is never our intent to profit off our insured's unfortunate losses, after all.
"In partnership with the FBI, we're pleased to return it to the Grant family," said Fran O'Brien, Division President, North America Personal Risk Services.
It's interesting to note that, although the 1976 insurance policy language probably did not include it, current Masterpiece language includes wording to allow policyholders to do just this — buy back recovered artwork "at no higher an amount than we paid to you for that property."
Perhaps the most interesting aspect of the case is how it was solved — and unfortunately for crime story aficionados, that remains a mystery to the public. FBI art crime agents recovered the Rockwell thanks to the help of an individual who wishes to stay nameless. The FBI does not believe the person was involved in the 1976 theft and doesn't expect to charge him or her.